What are Progressive Cavity Pumps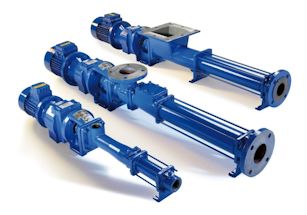 Progressive cavity pumps are a type of positive displacement pump. They are also known as eccentric pumps, cavity pumps or referred to by their manufacturer such as Mono pumps.

The progressive cavity pump consists of rotor constructed from hardened steel or stainless steel and a stator. The stator is a metal tube with internally moulded cavities. The helix rotor revolves eccentrically within the double helix of the stator, a continuous cavity is formed which progresses the liquid toward the discharge end of the pump as the rotor rotates.

Progressive cavity pumps are ideal for use on slurries, viscous and shear sensitive applications. Their benefits include being able to operate at high pressure with a high head, have low running speeds and can discharge liquid at a constant speed. The progressive cavity pump is therefore extremely versatile pump which can be used across a range of industries.

Popular manufacturers include Mono, Netzsch, Seepex, Robbins & Myers, Verder and many more. Please visit our progressive cavity pumps page for a full list of pumps we currently have in stock.