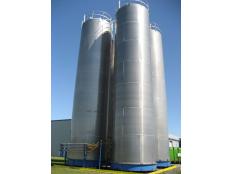 We regularly stock aluminium silos as they are a versatile storage solution when it comes to storing bulk goods.  Aluminium silos are often used in the plastics, pharma, food and chemical industries.

There are a number of advantages of using aluminium silos, these include their high corrosion resistance, low weight and high mechanical strength, smooth surface, free standing and low maintenance.

We have recently taken into stock a 30ton aluminium silo which was previously used to store sugar.  The silo comes complete with a number of accessories such as a top mounted DCE, vibrating base, load cells and rotary valve.

If you are interested in sourcing some silos please visit our silos page or alternatively contact us via telephone.