Bright Beer Storage Tanks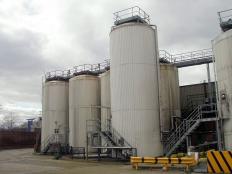 3DI Equipment have just completed the purchase of ten large bright beer storage tanks from a former brewery in Yorkshire. The storage tanks include nine 625 barrel (100,000 Litre) vertical bright beer storage tanks, dished top and bottom on skirts. The tanks are of 304 grade stainless steel construction, insulated and lagged. They were built by Briggs & Co in 1981 and are in excellent condition. As part of the purchase there is also one large 820 barrel (130,000 Litre) vertical bright beer storage tank again of similar construction however it was built by A.Forsyth & Sons in 1996.

We are currently in the process of removing the storage tanks from the brewery and they will be in stock in the next couple of weeks.  All the storage tanks are in excellent condition externally and internally and could be reused to store a wide variety of liquids. For further details please visit our storage tanks page.