Buying Used Process Equipment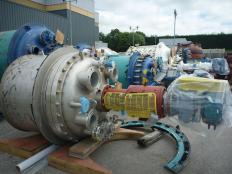 There are a number of benefits when it comes to buying used process equipment.  These often include significant cost savings and lead times in comparison to purchasing a new item of process equipment.

However there are many other benefits such as the expertise a dealer can offer when a purchaser is considering equipment for a specific process or the knowledge a dealer has on different manufacturers or process equipment. Another benefit which is sometimes not considered by a purchaser is the environmental benefit of buying a used item of process equipment compared to the impact of purchasing new.

One of our sales engineers Dylan Dyer recently discussed the benefits of buying used process equipment with engineer live and you can read the article on buying high quality used process equipment.