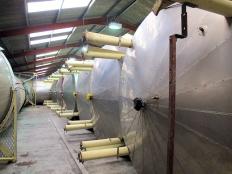 We have recently taken into stock a large quantity of food grade stainless steel storage tanks. The tanks were previously used to store cocoa butter and were installed in a cocoa manufacturing facility in the United Kingdom.

There are 17 tanks in total all around 34,000 Litre in capacity, constructed from stainless steel with dished bottoms and supported on legs.  9 of the tanks are storage tanks with jacketed bases.  5 of the tanks have bottom entry side rousers and 3 of the tanks have top mounted gate type agitators.

The tanks are all in excellent condition and are available for sale now, so if you require any storage tanks for food based products please contact us.