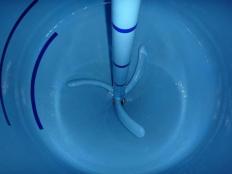 What are the benefits of glass lined steel process equipment?

Glass lined steel process equipment is often used in the chemical, pharmaceutical, petrochemical and food industries. Process equipment manufactured from glass lined steel is predominantly columns, heat exchangers, storage tanks, pressure vessels and reactors. Major European manufacturers of glass lined steel equipment include Pfaudler, De Dietrich, Buchi and Thaletec.

The benefits of using glass lined equipment in comparison other more commonly used materials like stainless steel and exotic alloys are listed below:



The first and most important benefit or reason why a company would consider glass lined steel is its corrosion resistance to most corrosive substances under extreme thermal conditions.


Glass lined steel offers superior corrosion resistance to acids, alkalis, water and other chemical solutions.


Glass lined steel is inert so it is impervious to contamination and therefore does not affect product purity or flavour. This is particularly important to the pharmaceutical and food industries.


Glass lined equipment is easy to clean and due to the smoothness of the surface require less cleaning. It also resists the build-up of viscous or sticky products which enables better heat transfer. This is a major benefit to pharmaceutical companies who produce different batches of products in the same glass lined reactor.


Glassed steel is strong and versatile which allows users to produce variety of products using the same piece of equipment.


Glass lined steel equipment is cost effective if properly handled and maintained compared to other exotic materials such as hastelloy's or incoloy's.


If you are looking for glass lined equipment please
contact us
as we stock a range of used, unused and reconditioned glass lined equipment, complete with inspection certificates.