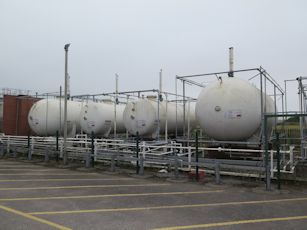 We have recently purchased and removed a number of LPG storage tanks from a aerosol production facility in the UK. LPG stands for liquefied petroleum gas. LPG is used a fuel in a range of applications including heating and cooking appliances, industrial applications, in vehicles and as a propellant and refrigerant. LPG can be obtained primarily as propane, butane or a mixture of the two.

The LPG storage tanks we have taken into stock were previously used to store unstenched hydrocarbon aerosol propellants (Butane, Isobut, Propane) used in the manufacture of aerosols.  The tanks capacities range from 40 ton to 12 ton, all are of steel construction, horizontal and supported on cradles. All the tanks were in test at the time of decommissioning and we have full inspection history for them. They had all recently passed inspections and LPG plant survey reports. We also have a number of accessories available including pumps, safety fittings, valves, gauges and pressure relief valves.

Further details on the tanks can be found on our storage tanks page of our website.