Outotec Larox Pressure Filter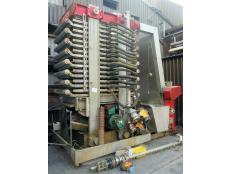 We have just taken into stock a Outotec Larox pressure filter. It is a PF series filter, type PF12.5 and was built by Larox in 1996.  In 2006 the control panel was upgraded to a touch screen version. The automatic pressure filter comes with a new filter cloth, electric motor and four spare unused stainless steel filter plates.  The filter was previously used on a chemical process, however these type of filters are often used in the mining and metallurgical operations.

Outotec Larox automatic pressure filters are recessed plate membrane filters in which the chambers lie horizontally.  They produce extremely dry solids, thus reducing the need for thermal drying.  These type of filters are built to last and deliver maximum performance across a wide range of applications.

For further details on this pressure filter please visit our filters page or to arrange an inspection please feel free to contact us.