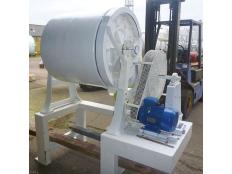 We have recently completed the refurbishment of a ceramic lined ball mill manufactured by Steele & Cowlishaw Ltd. The ball mill was previously used in the paint and coatings industry and our customer required the ball mill refurbishing before installing the mill at their manufacturing facility.

The mill was stripped down, externally bead blasted, spray painted and was fitted with new motor, pullies and grinding media.  The refurbishment was completed within 10 days of order and has been delivered to the customers premises.

If you are interested in an item of equipment and would like further details on our refurbishment services please do not hesitate to contact us.