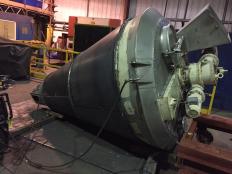 We recently purchased a conical screw mixer built by Hosokawa Nauta. The mixer had previously being used in the production of pharmaceutical powders however had not been used for a number of years and was surplus to requirements.

Internally the mixer was in excellent condition however it was clear that the external steel jacket would need to be replaced before it could go back into service. In the last few weeks the mixer has undergone some refurbishment with the old jacket being removed and replaced with a new one which has just passed a pressure test.

For photos of the conical mixer please visit our google + page.