Reverse Osmosis Water Plant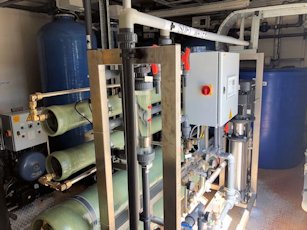 We have recently taken into stock a Reverse Osmosis Water Plant. The plant has a capacity of 4,000 litres per hour and was supplied and installed by Nalco in 2010. The plant is designed to take in towns water and soften it using a Fleck water softener. The water softener consists of a duplex carbon filter and a duplex softener. The water softener is regenerated using a salt saturator tank and brine tank which provides a saline solution for the regeneration cycle. A Limitron hardness monitor is also installed to monitor the tolerance of the softened water. Softened water is then supplied to the Herco reverse osmosis system model UO 4000KR which can supply up to 4,000 litres per hr of permeate. The plant is fully automated and the equipment and controls are housed in GRP constructed kiosk sited on steel plant form.

For further information and to request a quotation on this plant please click here.