Storage Tank Buyers Guide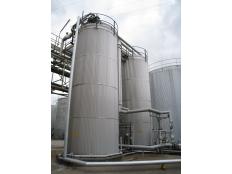 What factors should be considered when purchasing a storage tank?

Storage tanks are an integral part of many manufacturing facilities today. They are used across a wide variety of different industries to store liquids such as water, oils, fuels, fats, chemicals and beverages to name but a few. Storage tanks come in many shapes and sizes therefore before buying a storage tank it is important to consider the following factors:

Content: Knowing what you are storing and how it should be stored is the most important factor when selecting a storage tank. The product you are storing will ultimately define the type of storage tank you need to buy. For example the specific gravity of the product will have an impact on the size or thickness of a storage tank. Some products need to be stored at a certain temperature therefore the storage tank may require a heating element or insulation to be fitted.

Capacity: The quantity of product you need to store will help establish the capacity the tank needs to be.

Orientation: Storage tanks tend to be either vertical and cylindrical or horizontal and rectangular. The location where it is to be sited will tend to have an impact on the dimensions and orientation of a storage tank. It is considered more economical to stand tanks in the vertical rather than the horizontal however the surrounding environment or planning restrictions may prevent this. Most cylindrical horizontal tanks tend to have dished ends and are supported on saddles; however vertical cylindrical tanks can be either free standing on a flat base or supported by legs or a skirt with a dished or conical base. Generally the type of product will determine the design required.

Material of construction: Storage tanks tend to be constructed from steel, stainless steel and plastic or varying different forms of these materials. The material of construction of a storage tank will be influenced by the cost of the material and the products suitability to the material. Knowing your product and the impact it has on these materials is vitally important.

We have covered some of the factors that need to be considered when purchasing a storage tank, however ultimately the orientation, dimensions, thickness and material of the storage tank will depend on its contents. Most companies have experience in the products they store and know how they should be stored. However in some cases where companies are starting out with unfamiliar products they don't have that knowledge. This is where we can assist them by accessing years of knowledge and experience in the buying and selling storage tanks.

Please visit our storage tanks page for a full inventory of storage tanks we currently have in stock or alternatively contact us with your requirements.