Water Treatment Equipment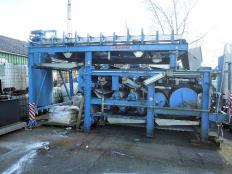 We have just taken into stock some process equipment previously used in the water treatment industry.  The equipment includes a Johnson Progress recessed plate filter press and a Diemme Belt Filter Press. Recessed plate filter presses compact sludges to a dry cake. The filter press is an efficent system which provides high pressure filtration and ease of operation.

Belt filter presses are used to pump and then dehydrate industrial sludge.  They can be used to treat liquid sludge, that is, those mixtures with varying but high concentrations of organic and inorganic substances in water which are collected during the purification process.

For further information on these items of equipment or other items please visit our water treatment equipment page.