What are Bunded Storage Tanks ?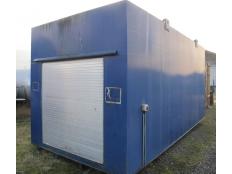 What are bunded storage tanks ?

Bunded storage tanks are often used to store diesel fuel or oil.  They are commonly horizontal and rectangular in orientation and constructed from steel. Bunded storage tanks consist of an inner tank and externally encased with an outer weatherproof tank to prevent leakage.  The inner tank is used to store the oil or diesel, where as the outer tank often referred to as 'the bund' is to protect the inner tank.

Bunded storage tanks are often supplied with an integral security cabinet and roller shutter door which is installed on the end of the tank to house the fill pipe, gauge and dispensing pump.

The advantages of bunded storage tanks are that they are space saving, weatherproof, envirnomentally friendly, easily transportable and cost effective.

3DI Equipment buy and sell used bunded storage tanks, please visit our bunded storage tanks page for our latest inventory. Alternatively if you cannot find what you are looking for please contact us with your requirements.