What are ISO Tank Containers ?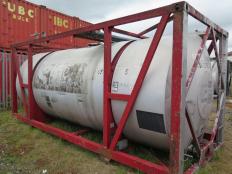 3DI Equipment Ltd has recently taken into stock a number of used ISO tank containers. But what are they and what are they used for? ISO Tank Containers are horizontal stainless steel pressure vessels supported and situated within a steel ISO standard frame. This enables the tank to be transported using intermodal transportation options ensuring a safe, reliable and cost effective method of transporting bulk liquids, powders and gases.

There are various sizes of ISO tank containers available but generally they range from 10,000 litres up to 26,000 litres in capacity. The tanks are usually clad with insulation for protection and in some cases depending on the product can be jacketed to keep the contents to a certain temperature.  ISO tank containers are classified according to the specification of the tank shell and fittings and the classification determines what type of product may be transported. For more corrosive or hazardous liquids they can be fitted with a protective internal lining such as polypropylene, PFA or PTFE.

For more information on ISO tank containers we have in stock please contact us or alternatively visit our storage tanks page where you can view what we have in stock.