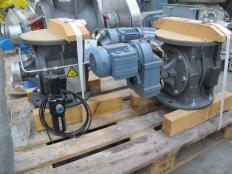 What are rotary valves ?

Rotary valves, rotary feeders or rotary airlocks as they are also referred to are used to discharge bulk powders or granules under gravity flow. Predominately they are used for discharging product at a controlled rate from silos and hoppers.

What factors should be considered when purchasing a rotary valve ?

Prior to purchasing a rotary valve there are some factors that should be considered. The first consideration should be the size of the rotary valve. Essentially this will be determined by the throughput rate, product density and flow characteristics. The second consideration should be the physical design of the rotary valve such as the housing, rotor vane, gearbox and motor arrangement. These will be determined by machine or silo to which it will be discharging as well as the duty requirements such as operating temperature and pressure. Finally it is important to consider the material of construction of various parts that make up the valve. This tends to be determined by the type of material that the rotary valve will be discharging.

For more information on rotary valves and the different types and sizes we have in stock please visit our rotary valves  page.