What is a decanter centrifuge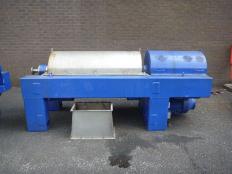 What is a decanter centrifuge ?
The solid bowl centrifuge or decanter centrifuge as they are known are used in virtually all industries that need to separate solids from liquids as part of their manufacturing process. Decanter centrifuges have become an essential component for the waste water, chemical, oil and food processing industries. Their efficiency and versatility saves time and materials which in turn reduces costs.
Decanter centrifuges can handle a wide range of feed slurry concentrations and have many potential uses. Decanters can be used for classification of solids in liquid suspension, for clarification of a liquid, for recovering valuable solids from liquids, washing solids and as a thickener.
There are generally two types of decanter centrifuges the horizontal and vertical with the horizontal being the most common.  There are however a number of variants available and these include: screen bowl decanters, three-phase decanters,   countercurrent extractor decanters, decanters for high temperatures and pressures, the cantilevered bowl, the hubless conveyor, thickening decanters and the dual beach decanters.
There are a number of factors that should be considered when selecting a decanter centrifuge.  These include but are not limited to the following:


Cost: end users should consider the capital cost of equipment as well as the operating and maintenance costs involved. Essentially a decanter centrifuge should be cost effective to the process in which it is operating.


Capacity: feed capacity of the slurry should be considered i.e. how much per minute, this in turn will establish the drive motor capacity and will help establish the model of decanter required.


Density: it is important to consider the density of the solids and liquids of the slurry as it will help establish the size of decanter required.


Material of construction: most decanter centrifuges are constructed from carbon or stainless steel however larger decanters are sometimes constructed from duplex stainless steel due to the strength of the steel. If the product is highly corrosive it may be wise to consider exotic alloys such as hastelloy or titanium for the contact parts.


Space: consideration should be taken as to the size of the centrifuge and the space in which it will be installed.


Manufacturer: there are many manufacturers of decanter centrifuges and choosing the right brand can also be a factor when selecting a decanter centrifuge. Well known manufacturers include Bird, Sharples, Flottweg, Centriquip, KHD Humbolt, Broadbent, Westfalia, Alfa laval and Tomoe.


For further details on decanter centrifuges please visit our decanter centrifuges page where you can see the different types of decanters we currently have in stock.